Class of 1969 Holds 40-year Reunion

The Ackerman High School Class of 1969 celebrated a 40-year class reunion at Pap's in Ackerman on Saturday, April 25, 2009. Click here an article by Cherry Sims along with photos, slideshow and video from the reunion.
---


AHS Class of 1969 is now on Facebook
---
In Loving Memory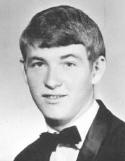 William Douglas Burney
William Douglas Burney passed away on November 13, 2003, in Oak Harbor, Washington. Doug was 54 years old. He was a member of the Union Labors Local 252, a graduate of Mississippi State University, and a Veteran of the United States Coast Guard.
He was preceded in death by his parents Edsel and Jolene Ray Burney, Grandparents, Sam E. and Vera Ray and W. L. and Mayme Burney, all of Ackerman.
He is survived by: his wife, Carol Johnson Burney, of Oak Harbor, Washington; daughters Ashley Cecelia Marcel, Steffen Jolene Burney, both of Olympia,Washington, and Tanya Nicole Manganello of Traverse City, Michigan; three sisters, Sandy Burney Vance of Quilcene, Washington, Julie Burney Brooks of Clarksdale, Mississippi and Lisa Burney Gilliland of Mathiston, Mississippi.; and two granddaughters, Alieyah Jordon and Alexis Marcel of Olympia, Washington.
A memorial service will be held in Doug's memory Friday November 28 at 5:00 p.m. at the United Methodist Church in Ackerman, where Doug remained a member throughout his life. The family is asking that in lieu of flowers, memorials are to be sent to The Disabled Veterans of America, Federal Building, Room 1040, 915 2nd Avenue, Seattle, Washington 98174.
AHS Class of 1969
Floral Spray Displayed at Doug's Funeral
November 28, 2003
Ackerman United Methodist Church

---
AHS Class of 1969
met at Pap's on April 26, 2003
(We were joined by Coach & Mrs. Parker Dykes)
Coach & Mrs. Paul Pounds attended the general AHS
Reunion earlier in the day
---
Coach Parker Dykes

Parker Dykes
AHS Head Football Coach
1969-71
(Read his note to us in the Guestbook)
---
Coach Paul Pounds
"It was good to hear from you. Paul got out of coaching when we moved to Columbia (MS) and I just quit working for Stennis Space Center. We own a B&B which I run and Paul is Director of the Exposition Center and Recreation for the city. Things are great. Paul spoke at the Petal High School Football banquet last night and we saw people we haven't seen in 30 years. Thanks for adding us to your list. We would love to attend the reunion if we can. We were there in 63 and 64. Thanks again for your e-mail and we hope to see you in April. Keep us posted. Brenda"
Here is contact information for Paul & Brenda Pounds:
Corner Oaks Bed and Breakfast
Paul and Brenda Pounds, Innkeepers
403 Broad Street
Columbia, Mississippi 39429
Phone: (601) 731-5222
Email: bpounds@cblink.com

---
Class of 1969 Holds Reunion
August, 17, 2002
Click Here For More About The Reunion



---
In Loving Memory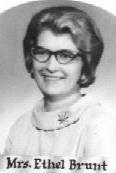 Mrs. Ethel Brunt, beloved mother of Derry and Danny Brunt, has passed away. Mrs. Brunt, one of our sponsors for the Class of 1969, taught bookkeeping, shorthand and typing at Ackerman High School from 1962 until 1993.