40 Yr. Reunion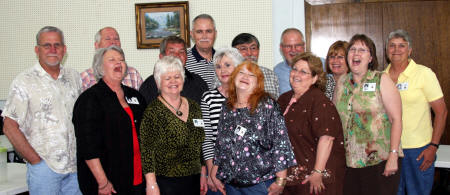 AHS Class of 1969 Reunion
April 25, 2009
Pap's Place Restaurant
"It's hard to believe that forty years have passed by since graduation from AHS." Peggy (Perry) Goza.
Class members of the 1969 Ackerman High School graduating class met and dined at Pap's Place on Saturday, April 25, 2009. Members in attendance included Buddy Smith, Danny Brunt, Derry Brunt, Peggy (Perry) Goza, Keith Hunt, Danny James, Misaniah (Snow) Mann, Jimmy Murphy, Barbara (Black) Nelson, Linda (Burdine) Pollard, Ronnie Reid, Cherry (Sandifer) Sims, Diane (Rhodes) Taylor, Shirley (Ray) Turner, and Glinda (Brooks) Whitmire.
Buddy Smith, who does a great job getting information out to all of us through the websites and email, encouraged everyone to sit in round table fashion so we could visit and "look at each other," as he put it. Conversations continued throughout the meal as classmates caught up and remember those 'good ole days.' After the meal, Buddy asked everyone to share a little about their lives. One by one, each member shared about their work, their faith and, of course, their grandchildren!
Of course, no reunion would be complete without the retelling of some famous class stories which will ever remain alive in the well protected vault of our memories! We were reminded again of the talent some of our friends had in the areas of impersonation, levitation, and bathroom fixtures!
There was a more serious note in the evening when Derry Brunt shared some observations about 'old age.' We all resembled those remarks too well and Barbara Nelson said, "I laughed so much I thought I was going to pop." Barbara also noted, "I wish that more people would take the time to participate in our reunions, but they are the ones that are missing out on the wonderful friendship that we have. Our class was always close and we had lots of fun. I look forward to our next reunion."
She spoke for us all.
Ackerman High School Class of 1969 40-Year Reunion from Buddy Smith on Vimeo.
Class of 1969

Welcome to the AHS Class of 1969 Website. Hopefully, this site will become a useful tool in fostering better communication among us. I welcome your ideas about improving the Class of 1969 website. Check in often for updates.

The Webmaster,
Buddy Smith
Guestbook

The Class of 1969 guestbook can help us keep our addresses updated. Sign it today and pay careful attention to all the fields.